P&ID software PlantEngineer
Intuitive P&ID software for professional flow sheets based on Microsoft Visio.
More than just a drawing tool
Seeing is understanding
Traditionally, drawing P&IDs was left to technicians. In many companies, P&IDs are still drafted and printed in a drawing department before being corrected by the process engineer. Changes are made by hand and then updated by the drafting technician. Instead, we view the P&ID as a design document for process engineers, allowing them to make changes more quickly and avoid errors. The act of drawing gives engineers a deeper understanding of their processes.
Your flow diagrams are your business cards
Consistent communication signals a high level of professionalism. Present your sophisticated plant concepts visually with flow diagrams and symbols that comply with the ISO 10628, DIN 28000, DIN EN 62424 standards for European and Asian markets and ANSI/ISA 5.1 and PIP for American markets. Stand out from your competition with clearly structured flow diagrams.
P&ID – the central document of the plant's lifecycle
Symbols according to international industry standards
Easy to learn and intuitive to use
Representative reports directly from the P&ID
Ready to use – get started with your projects straight away
Integration into existing IT systems
Communication within global teams
Consistent data management
Symbols Identification system Reports ReportDesigner Pipe management OperationMode
Symbols according to ISO10628, DIN28000, ANSI/ISA-5.1-2009, and PIP
Access more than 1,000 intelligent symbols form international industrial standards and create your own symbols to meet your individual requirements.
ISO 10628 – Diagrams for the chemical and petrochemical industry
DIN 28000 – Chemical apparatus – Documentation in the life cycle of process plants
DIN 1861 – Refrigerating systems and heat pumps – System flow diagrams and piping and instrument diagrams
DIN EN 12792- Ventilation for buildings – Symbols, terminology and graphical symbols
DIN EN 62424 – Representation of process control engineering – Requests in P&I diagrams and data exchange between P&ID tools and PCE-CAE tools
DIN 19227-1 – Control technology; graphical symbols and identifying letters for process control engineering; symbolic representation for functions
ANSI-ISA-5.1 – Instrumentation Symbols and Identification
PIP PIC001- Piping and Instrumentation Diagram – Documentation Criteria
Automatic identification system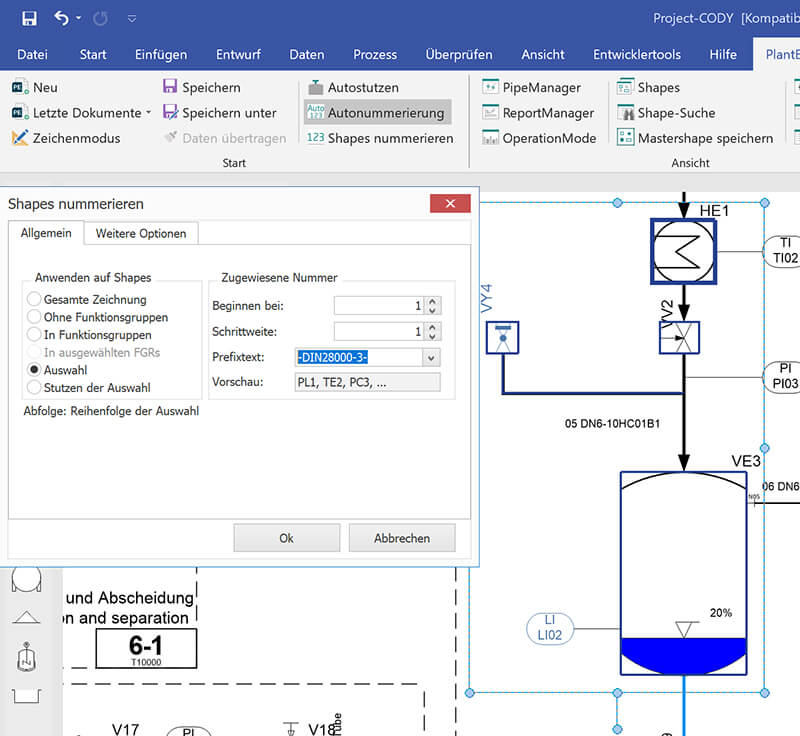 Automatic numbering makes it easier to assign and edit the plant identifiers.
Autonumbering according to DIN28000
Autonumbering with a dedicated numbering system
Autonumbering for 2 numbering schemes (internal and customer numbering system)
Modify the numbering for the entire drawing or for selected plant components
Reports in Word & Excel directly from the P&ID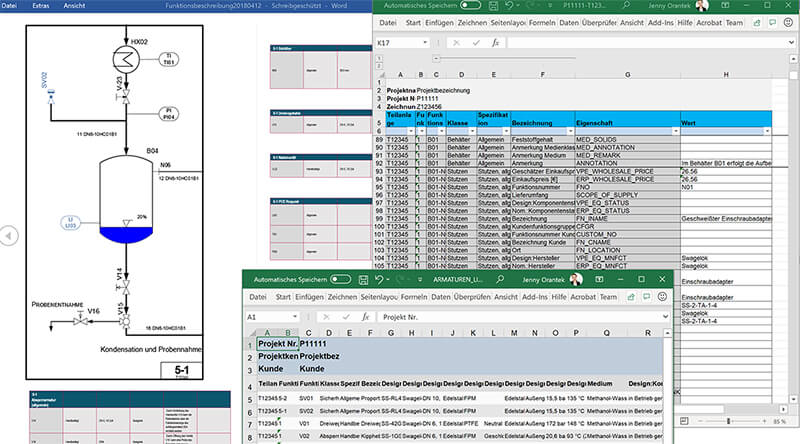 Create multilanguage lists, datasheets, instructions, and commissioning reports in Microsoft Excel or Word directly from the flow diagram.
Each component is an object and is therefore uniquely assignable
Component list, pipe list, apparatus list, aggregate list, electrical consumer list, ICA lists, nozzle list
Datasheets for apparatuses, aggregates, and pumps
System descriptions, functional descriptions, and commissioning reports
MultiReports allows you to create more than one report at the same time
Customize reports for each customer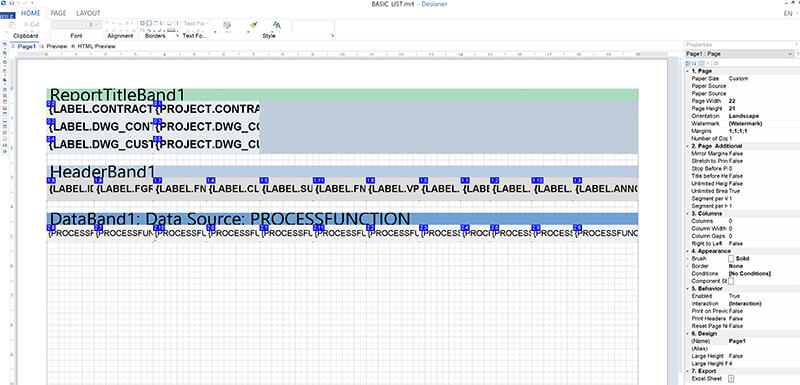 Customize your reports to meet your specific information requirements without needing any programming and create lists, datasheets, descriptions, safety descriptions in the blink of an eye.
Easily design your reports with drag and drop
Data representation as tables, text, graphics, and nested table elements
Complex reports with integrated graphics and variable text elements
Integration of external data sources (SQL, OBDC, XML, JSON)
Integration of custom VB or C# scripts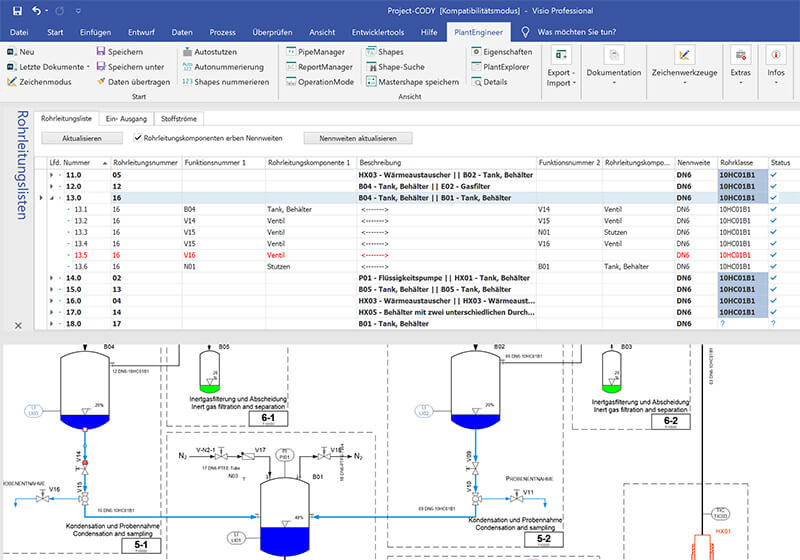 Define, edit, and analyze your pipe systems with the PipeManager.
Assign pipe numbers
Nominal diameters and pipe classes can be inherited
Consistency and plausibility verification
Pipe lists with pipe components and start and end points
OperationMode – Visualize and document different operating modes
The OperationMode feature allows you to visualize and document various aspects of the plant status.
Visualize and document the plant operating status in color (colored P&IDs)
Status matrix in Excel for easier editing
Status matrix provides a foundation for programming
Learn more about our P&ID software PlantEngineer
Start intuitively and out of the box with drawing professional flow charts and creating Excel lists and data sheets.
P&ID software for
professional entry
P&ID software for professionals & freelancer
P&ID software for power users
The P&ID is your system's birth certificate
Plant construction projects bring together various tasks and roles with different information requirements. The P&ID is the master document and basis for a shared understanding of the plant. Metadata from P&IDs can be made accessible to basic and detailed engineering departments or installation technicians in the form of lists, datasheets, or a complete manual.
The P&ID tells customers about the functional relationships between process engineering plant concepts and can already be used during sales. Complex plant projects can be very communication-intensive. The P&ID is the basis for communication between experts in process engineering, automation, 3D planning, and electrical planning. Having a visual representation of the plant concept allows every participant in the project to see the technical and functional context at a glance. Integrated data graphics such as traffic lights, diagrams, or colors give a quick overview of changes, as well as the ordering and commissioning status of the plant.
Life cycle document of your process plant
The piping and instrumentation diagram (P&ID) is a birth certificate and life cycle document for your process plant. It is the document that needs to be updated the most. The P&ID accompanies your system from the earliest design stage through commissioning, operation, and maintenance.
Microsoft Visio as a platform
Thanks to its Microsoft Office interface, Microsoft Visio is easy and intuitive to use. Visio is widely used by many companies and is an industry standard.
Our PlantEngineer software is built on the graphical platform provided by Visio, which offers an excellent basis for drawing schematic representations such as P&IDs.
Visio and PlantEngineer can be learned quickly without any prior knowledge. We have extended Microsoft Visio into a comprehensive development environment for designing intelligent P&IDs that comply with ISO10628, while automating the documentation process. Standardized and open interfaces allow you to integrate any data sources of your choice. PlantEngineer gives you out of the box capabilities that go far beyond a simple drawing tool.
Our close collaboration with the Microsoft Visio development team allows us to develop new and innovative functionality for our customers.
Do you have questions about PlantEngineer or do you want to solve a specific problem? We have summarized the fequently asked questions for you in the FAQ.