PlantEngineer – Intelligent P&ID software for everyone
Intuitive P&ID software for professional flow diagrams based on Microsoft Visio.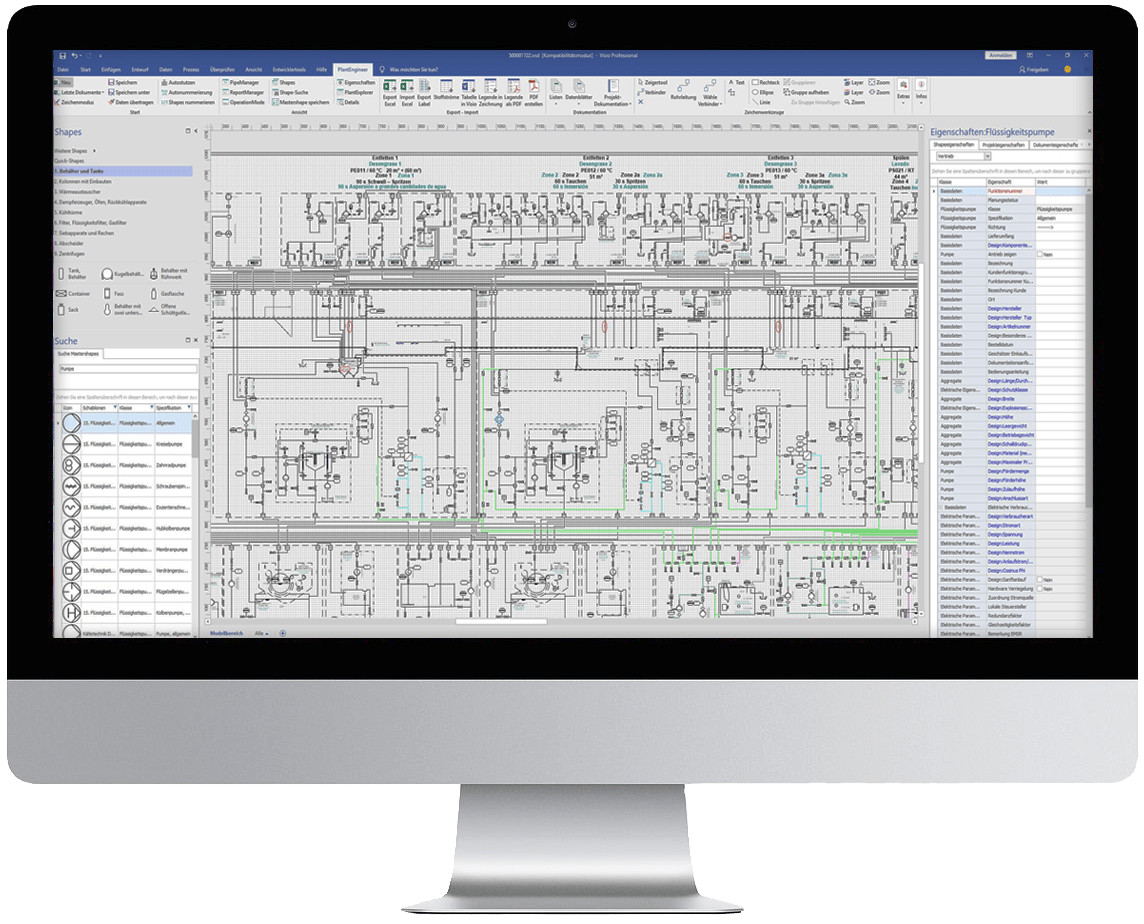 The P&ID (piping and instrumentation diagram) is the most important document of any process plant, revealing the plant's functional context at a glance. With our intelligent P&ID software – PlantEngineer – anyone can create flow diagrams and generate component lists, datasheets, pipe lists, ICA lists, and as-built documentation with a single click.
X-Visual Technologies
Your specialists for P&ID software
Digitale Transformation, Virtual Reality und künstliche Intelligenz werden die Planung, den Bau und den Betrieb von Industrieanlagen revolutionieren. Der Adlershofer Softwarehersteller X-Visual Technologies ist hierfür seit Jahren ein gefragter Partner und will die entsprechenden Technologien nun stärker in die Region tragen. Als erstes Berliner Unternehmen wird es dazu, gemeinsam mit der Hochschule für Technik und Wirtschaft HTW Berlin, im Rahmen des Förderprogramms "WIR! – Wandel durch Innovation in der Region" ein Konzept für MR-Anwendungen erarbeiten.
Unter dem Slogan "Die Digitalisierung entmystifizieren" diskutieren die Teilnehmer auf dem diesjährigen Smart Process Manufacturing Kongress die aktuellen Herausforderungen der Digitalisierung. Hier erleben Sie zukunftsweisende Impulse, lösungsorientierte Best Practice-Beispiele und können sich live mit Vorausdenkern und renommierten Unternehmen der Branche austauschen. Entwickeln Sie durch den praxisnahen Diskurs eigene Strategien für Ihr Unternehmen und profitieren Sie dadurch von der digitalen Transformation.
Diskutieren Sie mit Experten auf der PAAT und tauschen sich zu Trends aus. Es treffen sich die ProcessNet-Fachgruppe und die Arbeitsausschüsse der Fachgemeinschaft "Prozess- und Anlagentechnik", "Pipes, Valves and Pumps", "Digitale Technologien", "Modellgestützte Prozessentwicklung", "Modulare Anlagen", "Cost Engineering", "Mess- und Sensortechnik" und "Turnaround Management" sowie die temporären Arbeitskreise "100% Digital", "Virtual Reality" und "Data Exchange in the Process Industry".
2D and 3D grow together Microsoft Visio and Mixed Reality (MR) combine P&ID with the real plant world. Mixed Reality now also arrives in the …